Abby Lee Miller is an American dance instructor, choreographer, and the director and owner of Reign Dance Productions. She was born in Septem 21, 1965 in Pittsburgh, Pennsylvania to mother Maryen Lorrain (McKay) and father George L. Miller.
In 2011, she began to appear in the Lifetime reality show Dance Moms for seven seasons through 2017. In March 2017, Miller announced she had quit the series due to her health condition.
Abby's Cancer Diagnosis
Abby, the Dance Mom star was diagnosed with Burkitt Lymphoma, a type of Non- Hodgkin's Lymphoma followed by an emergency spinal injury in April 2018.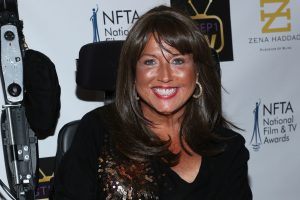 After that, it's been long, she is on medication who also had to learn how to walk after her two emergency operation of the spinal cord, in addition to chemotherapy.
On October 2018 she completed her 9th round of chemotherapy. She had been so positive regarding her health struggle amidst on social media. she wrote recently on Instagram on June 30, 2018, showing her scars of surgery,
"After the second surgery, my back is finally on the mend. I just wish the top section and bottom would hurry along too!"
"I had 52 staples perfectly aligned and now a bunch of crazy stitches are holding my neck and lumbar region together!".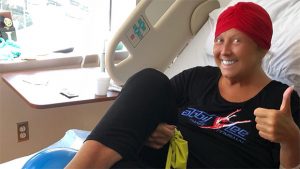 She also shared a selfie from the hospital bed saying
"fall risk." "If I could fall, I would crawl to the mall!"
In August 2018, she suffered a setback in her treatment when came down with high fever and also low white blood cell count.
"Still giving it my all 3 days a week at Physical Therapy."
Abby also shared a video of her dancing in physical therapy, proving all her physical therapy is paying off. She was totally bound in a wheelchair after the diagnosis of cancer. This video was damn amazing showing her progressive health condition.
Abby's side effect of Chemotherapy
Soon after her second surgery of the spine, she started her third round of chemotherapy which leads to her hair loss. Hair loss is the common side effect of chemotherapy.
Sometimes it only leads the hair loss of a person's head but sometimes it leads to the hair loss of pubic area, armpit, and eyebrows. She also had to be cautious in the sunlight because of her chemotherapy.
Burkitt Lymphoma
If you are not familiar with it, Burkitt Lymphoma is a form of Non-Hodgkin's lymphoma on which cancer starts in immune cells called B-cells. This cancer usually starts in the abdomen and forms a large tumor. It can spread rapidly to the brain and spinal fluid. According to the American Cancer Society, this is a very rare disease making up to only 1-2 percent of lymphomas.
Here is the hoping that the dance star Abby continues to feel like showing her mesmerizing dance skill on Instagram.