Cristiano Ronaldo's mother Dolores Aveiro had revealed that she is fighting for her life once again after beating breast cancer more than a decade ago.
Cristiano Ronaldo's Mother Dolores Aveiro Struggle With Breast Cancer
64 years old Aveiro was diagnosed with breast cancer in 2007, underwent surgery and radiotherapy. She has also revealed that she has had an operation for another breast and as well as a new course of radiotherapy. She was in Italy for her son Ronaldo's 34th birthday where she diagnosed with cancer once again and had a new course of radiotherapy.
"I was operated on another breast in Madrid, I've had radiotherapy and now I'm fighting for my life", told Aveiro.
She revealed about her deteriorating health condition through media. She didn't provide more information regarding the next operation but she added,
"no one knows about the second one"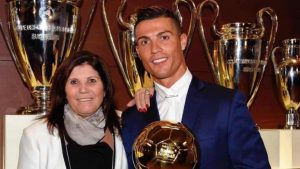 In 2009 the Juventus player Ronaldo donated £100,000 to build a cancer center at the hospital where his mother's life was saved. His mother Aveiro has had been more than a mother and probably the greatest source of his strength although her mother revealed that she had thought about abortion when she was pregnant with Juventus striker CR7 in her autobiography "Mother Courage". Aveiro sudden revelation about her health condition indeed shocked the football world.
Although Ronaldo has been enjoying his professional life playing for Juventus, the captain of Portugal football team has been having a very difficult personal life. He was dealing with Mayorga case as well the problem related to Spanish tax authorities which was solved with 19 million fine. Recently his girlfriend lost her father. The Juventus star has been doing everything possible to overcome her grief. However, he had been in very good form for Juventus this season.
What is Breast Cancer?
Breast cancer is cancer that forms in the cells of the breasts.
After skin cancer, breast cancer is the most common cancer diagnosed in women in the United States. Breast cancer can occur in both men and women, but it's far more common in women
Types of Breast Cancer
It is a rare type of cancer that forms in the lining of the blood vessels and lymph vessels.
Ductal carcinoma in situ (DCIS)
It is characterized by the presence of abnormal cells inside a milk duct in the breast.
Inflammatory breast cancer
It is a rare type of breast cancer that develops rapidly, making the affected breast red, swollen and tender
Invasive lobular carcinoma
It is a type of breast cancer that begins in the milk-producing glands (lobules) of the breast.
Lobular carcinoma in situ (LCIS)
It is an uncommon condition in which abnormal cells form in the milk glands (lobules) in the breast.
It is rare cancer that forms in the breast tissue of men.
Paget's disease of the breast
It is a rare form of breast cancer which starts on the nipple and extends to the dark circle of skin (areola) around the nipple.
It is a type of breast cancer that comes back after initial treatment. Although the initial treatment is aimed at eliminating all cancer cells, a few may have evaded treatment and survived.
What Are The Symptoms of Breast Cancer?
Signs and symptoms of breast cancer may consist of:
A breast lump or thickening that feels different from the surrounding tissue
Change in the size, shape or appearance of a breast
Changes to the skin over the breast, such as dimpling
Peeling, scaling, crusting or flaking of the pigmented area of skin surrounding the nipple (areola) or breast skin
Redness or pitting of the skin over your breast, like the skin of an orange
What Are The Risk of Breast Cancer?
Factors that are associated with an increased risk of breast cancer are as follows:
Women are much more vulnerable than men are to develop breast cancer.
The risk of breast cancer increases with aging.
A personal history of breast conditions 
If you've had a breast biopsy that found lobular carcinoma in situ (LCIS) or atypical hyperplasia of the breast,  then you have an increased risk of breast cancer.
A personal history of breast cancer
If you've had breast cancer in one breast, you have an increased risk of developing cancer in the other breast.
Inherited genes increase the risk of  cancer 
Certain gene mutations which can increase the risk of breast cancer can be passed from parents to children.
Exposure to the Radiation
Obesity increases the risk of breast cancer
Beginning your period at a younger age less than 12 years
Beginning menopause at an older age increases the likeliness of breast cancer
Having your first child at an older age also increases the chances of breast cancer
Women who have never been pregnant have a high risk of breast cancer than the women who have had one or more pregnancies.
Women who take hormone therapy medications that combine estrogen and progesterone to medicate the signs and symptoms of menopause have a high risk of breast cancer
Drinking alcohol also increases the risk of breast cancer
How Breast Cancer Can Be Prevented?
Consult your doctor about breast cancer screening and the benefits and risk of screening.
Be familiar with your breasts through breast self-exam for breast awareness.
Drink alcohol in moderation, if you choose to drink.
Workout for most of the days of the week for at least 30 minutes of exercise.
Limit postmenopausal hormone therapy.
Maintain a healthy weight.
Choose a healthy and balanced diet.