Are you someone who always dreamed of gaining that amazing, flawless skin but never knew how? Well, some people have great genes and are blessed with gorgeous skin without having to put in effort. However, the story is not the same for everyone and some of us have to work a little bit harder than the rest to keep our skin looking young and healthy. This is where face masks come into play. Face masks are perhaps the most effective tools you can use to rejuvenate your skin. You can always buy these masks at stores, but isn't it a great idea to just make them at home with the ingredients you already have? Here we give you some recipes that work wonders! Just make sure you use the ones that match your skin type.
 For dry skin:
Carrot and Coconut Moisturizing Mask
Who would have thought carrot and coconuts make a great combination for your skin? And all you really need is a carrot, a tablespoon of coconut oil and water. Chop up your carrots into about 5 pieces. Put water into a saucepan and boil it. Add the carrots to boiling water and steam for about 10 minutes. Then take out the carrots and put them into a blender. Add coconut oil into the blender too and blend until the mixture becomes smooth.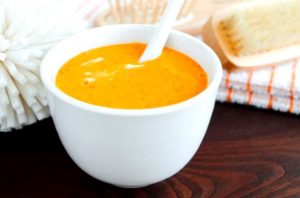 Clean your face and then apply the mask (make sure to avoid your eyes and mouth). Leave it on for 15-20 minutes. After that, wash off your face with warm water and gently wipe off the remainders. If needed, apply some olive oil or coconut oil as a moisturizer.
Banana moisturizing face mask
Peel off a banana and keep half of it in a bowl and mash it till it becomes smooth. To this, add 1 tablespoon of honey and 4 tablespoons of ground oats. Apply the mask to your face and leave it on for 15-20 minutes. Using a circular motion to spread the mask will make the exfoliation process more efficient. Again, make sure you avoid your eyes and mouth! Then wash your face with warm water. Use a wash cloth to gently wash of the remains.
For oily skin
Take 2 tablespoons of gram flour, ½ teaspoon of turmeric powder, 3 tablespoons of milk, 5 drops of lemon juice and water as needed. Mix these ingredients together and apply to your face. Wash it off after 20 minutes. This mask helps remove dead skin cells, acts as a natural exfoliant and cleans your oily skin.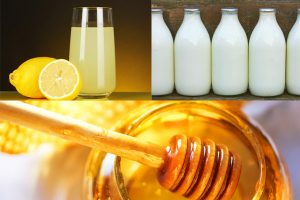 Take some milk and put in some drops of lemon in it. And Ta-da! Your face mask is ready. This might be one of the easiest masks to make and it works wonders for people with oily skin. While the milk gives skin a much-needed touch of moisture, lemon helps to reduce the oiliness.
This is also another simple way to make a face mask to tackle oily skin. Next time you eat some oranges, save the peels and dry them up in the shade. After they have dried, keep the peels in the blender. This orange peel powder can then be mixed with curd, milk or water- whatever is easy for you. Wash it off after about 15 minutes. This mask acts as an astringent and helps to open clogged pores as well.
To reap the benefits of a papaya mask, mash some papaya in a bowl and then apply it onto your face. After drying it, wash it off properly. You can also add a few drops of lemon to the papaya if needed. Although this mask is beneficial to all skin types, it is most beneficial for oily skin.
For Combination Skin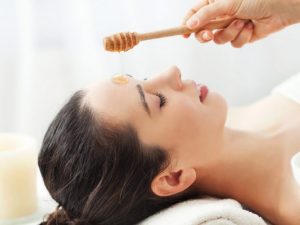 Honey is a superhero when it comes to combination skin. To use this honey mask, just mix honey and lemon juice in a 2:1 ratio. Apply this mixture to the parts of your face which need healing and repairing. Then rinse it off after 5-10 minutes. Not only is honey a great moisturizer for dry skin, but it is also acts as an antibiotic that helps treat oily, acne-prone skin. In addition lemon efficiently reduces pore size and tightens your skin.
The oatmeal face mask is a fantastic for your skin, especially if you have acne or blemishes. Take a cup of oatmeal. To it, add 1 teaspoon honey, olive oil and lemon juice each. Apply it to your face and wash off after 15-20 minutes. You can even take an egg and add the egg-white to the mixture for this helps the mask tackle acne even more. Adding apple vinegar cider to the mask will in addition keep your skin's pH balanced and your face smooth and glowing. Apply this mixture mainly to your T-zone where breakouts are more prone to occur.